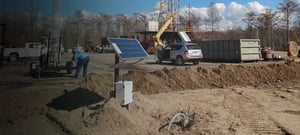 INDUSTRIES
A wide array of services tailored to your market sector's monitoring objectives.
CONSTANTLY EVOLVING TO MEET INDUSTRY DEMANDS
Nanometrics has evolved into a market leader in turnkey seismic monitoring for the energy production sector. As one of the world's largest seismic network operators, we offer proven network design methodology, station deployment and network maintenance capabilities and extensive in-house data processing and analysis experience… everything to expertly and cost-effectively meet all your monitoring needs, including compliance with the latest regulatory requirements, so you can focus on your core business.