2023 Canada's Best Managed Companies Gold Standard winner
NANOMETRICS IS PROUD TO BE A GOLD STANDARD WINNER AGAIN IN 2023
After five consecutive years of maintaining the Best Managed status, Nanometrics has once again been recognized for its overall business performance and sustained growth with the prestigious Canada's Best Managed Companies designation for 2023.
As a 2023 Best Managed program award winner, Nanometrics is amongst the best-in-class companies in Canada and attributes its success to fostering a positive workplace culture, deep commitment to talent retention, and sustainability in challenging labour market conditions.
To attain Canada's Best Managed Companies standing, candidates undergo a rigorous assessment by a multi-disciplinary judging panel evaluating their level of maturity on four core pillars: strategy, commitment, capability, and financials. This year, applicants were also awarded bonus points for demonstrating leading-edge practices in ESG initiatives, with a focus on reducing greenhouse gas emissions, limiting waste, improving energy efficiency, and cultivating diversity.
According to Lorrie King, national co-leader of Canada's Best Managed Companies program and partner with Deloitte Private, "I am always amazed by the fortitude of our Best Managed Companies, who continue to act as global beacons for all of the talent and innovation Canada has to offer."
Nanometrics has been able to maintain its growth trajectory due to its unwavering commitment to investing in research and development, nurturing top-notch talent, and fostering a culture of dedication and innovation. By continuously honing its expertise and staying at the forefront of technological advancements, the company has been able to develop cutting-edge solutions that meet the ever-evolving needs of its customers. Nanometrics has become a trusted leader in the seismic monitoring industry, with a reputation for providing top-quality, reliable and innovative products.
"We have a sense of purpose and contribution to society. Our solutions help researchers, scientists and industry better understand the natural world and its impact on people and infrastructure," says Ian Talbot, CEO Nanometrics. "Being a part of a team that contributes to the safety and well-being of communities is a rewarding experience."
The company remains committed to continuous innovation and is constantly developing new technologies to improve the accuracy and reliability of its seismic data solutions and adapt them for new industry applications.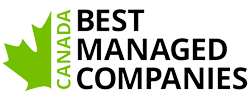 Canada's Best Managed Companies continues to be the mark of excellence for Canadian-owned and managed companies with revenues over $50 million. Every year since the launch of the program in 1993, hundreds of entrepreneurial companies have competed for this designation in a rigorous and independent process that evaluates their management skills and practices. For more information, visit www.bestmanagedcompanies.ca.