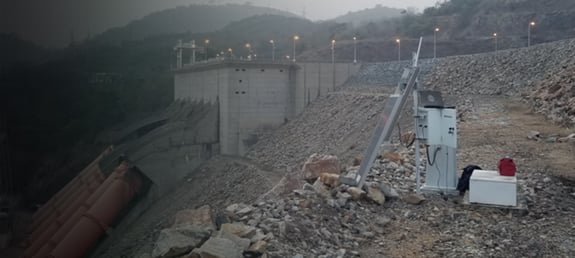 Structural Monitoring Services
All the necessary hardware, software and project management expertise you require.
EARTHQUAKE EARLY WARNING AND STRUCTURAL HEALTH MONITORING
An integrated Earthquake Early Warning (EEW) and Structural Health Monitoring (SHM) solution, Nanometrics' SiteAlert provides rapid notification of potentially damaging events and seamlessly integrates with control and alarm systems to automatically trigger operational protocols.
Our advanced monitoring services ensure that assets are protected and stakeholders are informed by providing immediate notification of significant events along with automatically compiled incident reports for rapid assessment of the potential impact to a facility.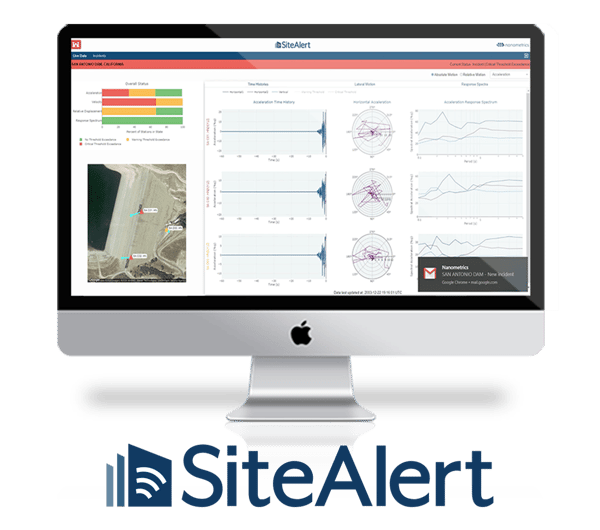 Our turnkey monitoring solution includes:
Nanometrics precision, class-A instrumentation of critical facilities
Real-time data acquisition and archiving
Network health monitoring and management
Continuous data processing
Real-time earthquake early warning service and strong motion notifications
Interferometric monitoring in near real-time to facilitate interpretation of structural integrity
Triggering of automated control and alarm systems
A web-based monitoring portal to search historical incidents and download the associated data products and reports
Compatible with existing sensors and networks
NOTIFICATIONS AND AUTOMATIC EVENT TRIGGERS
Event notifications from our monitoring solution are compatible with existing operation control systems and provide automatic emails and/or text messages for notable events. Additional reporting is available, enabling engineering assessment of potential seismic impact to the facility.
SiteAlert is our real-time Structural Health Monitoring portal that provides constant insight into earthquake ground motions at your facility. This intuitive platform provides a clear view of key seismic demand parameters, such as absolute or relative peak ground motions, ground motion directionality and response spectra, relative to the facility-specific thresholds.
If a significant event occurs a notification is delivered via email and/or text message to prompt operators to review the incident and invoke the appropriate protocols. An incident report is automatically posted to the secure structural monitoring web portal along with the data packages required for a detailed engineering assessment of potential damage.
Using seismic switch technology, SiteAlert integrates with your existing control and alarm systems to rapidly invoke safety and operational protocols in the event of a strong earthquake.
Sensors
Nanometrics' Structural Health Monitoring solution is compatible with a broad range of sensor makes and models for utilization with existing networks. For new installations, our Titan line of Class-A strong motion accelerometers are designed specifically for use in large civil structures such as nuclear reactors, multi-story buildings, bridges and hydro-electric dams. Our industry leading sensors are found in every corner of the world and are used to monitor natural and artificial processes with unmatched precision and reliability. Nanometrics instrumentation is also covered via extended warranty if bundled with acquisition and monitoring service.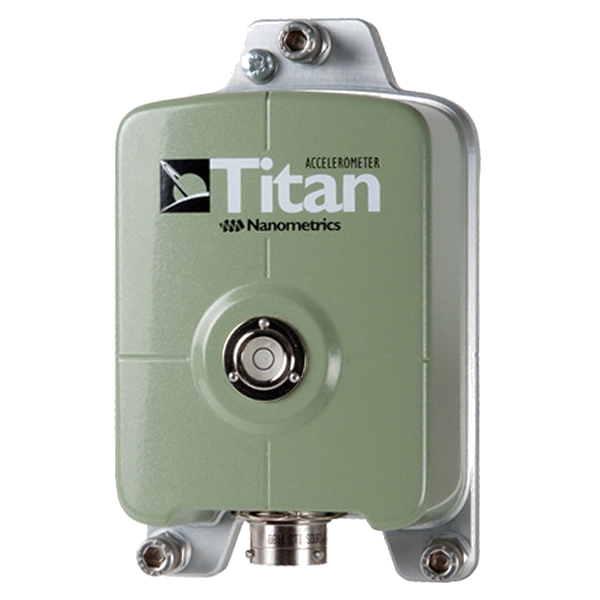 DATA ACQUISITION AND NETWORK MONITORING
Nanometrics cloud-hosted data acquisition and network monitoring systems use proprietary error detection and correction to ensure automatic, secure and uninterrupted data flow to the monitoring systems. Our intelligent network monitoring service also automatically detects any data availability or reliability issues ensuring that high-quality and complete data is available when significant ground motions strike.
Our turnkey solution ensures uninterrupted monitoring to invoke safety and regulatory protocols in a timely fashion for any critical facilities, including:
Hydroelectric dams and tailings dams
Water, gas and electricity distribution facilities
Nuclear power plants
Chemical storage or refineries
Wastewater treatment facilities
Industrial manufacturing and processing facilities
Communication and data centers
Bridges, tunnels, hospitals and schools